---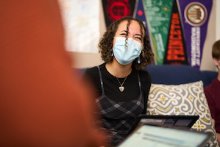 November 16th 2021
A company called SCOIR is quietly upending the college search process in the United States. True to form, Bay saw the possibilities in its innovative product and said, "Let's do this."
The months leading up to college application deadlines can feel both endless and way too short. So many schools, so many checklists, so many students asking the same questions. "Is this college right for me? What are my chances of getting in? What kind of financial aid is available? Do I have to have my whole life figured out now?" Behind every screen and virtual stack of application materials is a student whose particular context will determine how they navigate the search and application process, and may well determine whether they graduate from the school they start out at. With so many factors to consider, it can be hard to make an educated decision. One company, called SCOIR, has set out to change that.
TOO MUCH INFORMATION, NOT ENOUGH VALUE
Have you ever wondered just how so many colleges seem to know that a student is in the college search process? During registration for the PSAT and PreACT, the services ask whether they can share your information with colleges. Many students select 'yes' thinking they are permitting their scores to be shared, but in reality they are allowing the services to sell their information to hundreds of schools. This is a big source of revenue for the testing services, a big expense for colleges, and a big source of not-always-helpful email and junk mail for millions of high school students and their families.
On top of that, the extent and quality of college counseling at high schools in the United States varies wildly, leaving many students unaware of the array of available opportunities or overwhelmed by choices that they don't fully understand.
What if there were some way to build a network that truly informs students and families about the breadth of opportunities and the host of factors that come into play when deciding on a college?
This is a question that had been nagging at Gerry McCrory ever since he'd gone through the search process with his own children. Having moved to the United States from his native Ireland, he found the college process here opaque. The industry-standard tools and college counseling didn't reveal crucial information. For instance, there seemed to be no way to determine one's chances of getting in, how much it would really cost, and whether, after all the effort to apply, the "fit" would even be a good one.
In the wake of that experience and with decades of successful tech entrepreneurship, McCrory could see there was a way to do the whole thing better. This would lead him to create a platform that flips the process around, equipping students and families with the information they need to drive the process.
REAL-WORLD TESTING AT BAY
Dorothy Jones, Bay's then–Director of College Counseling, met McCrory at the National Association for College Admission Counseling (NACAC) conference in 2016. He had the idea for SCOIR in mind and was at the conference to get the lay of the land. Jones was there as a seasoned pro well aware of the frustrations faced by students and families; she was formerly the Dean of Admissions at Saint Mary's College of California and was now responsible for running a college counseling program that was true to Bay's value of a holistic, equitable, and student-centered approach. For years, her team at Bay had lamented the limitations of the industry-standard search tool, called Naviance.
When Jones heard about McCrory's idea for SCOIR, she was excited and skeptical. It really did seem too good to be true. She quickly coordinated a breakfast with about 15 other counselors who were attending NACAC, where McCrory demonstrated the platform that was in beta. Upon learning the details, she and Bay's Associate Director of College Counseling, Gina Meneni, decided to get in on the ground floor and become a test site for the product. "Bay has been there since day zero helping me build this," McCrory says.
In addition to Bay's team, SCOIR's development phase was helped along by admissions professionals Cheryl Leonhardt, formerly at Villa Maria Academy High School (near Philadelphia) and Tampa Preparatory School, and Julie Kampschroeder of Ritenour High School, a large public school in St. Louis. With decades of experience among diverse student populations, this group was able to offer real-world feedback on the features and functions that would be valuable to students, families, and college counselors. McCrory says, "They helped me design, develop, and get the word out." SCOIR's customer base has grown exponentially thanks to a design that truly addresses the needs of its users.

TRANSPARENCY IS KEY
The traditional college search process has many flaws. Chief among them is that there is too much information flowing out from schools to students that is not tailored to them, does not provide a helpful basis for comparing schools, and is not transparent about cost and other details.
SCOIR, pronounced score, means "transitions" in Gaelic, and the platform does a 180 with the college-search process by putting students and families in charge. You'll start with a tool called YouScience, which walks you through brain games that go much deeper than personality quizzes and help you understand the type of environment you'd want to learn in and would feel comfortable in.
Equipped with detailed information about your needs and interests, you can begin an educated search. SCOIR provides an array of baseline details that help students and their families compare schools, including average net cost, admissions criteria, and specific information about programs, scholarships, and more. As you look, you'll assemble a list of schools of interest, and colleges can contact you only through the platform if you add them to your list.
This method benefits both sides: Students are hearing from schools that are a potential good fit for them, and colleges are in touch with students they know are truly interested in them. As the months go on and students get more targeted information from colleges within SCOIR, they are better informed not only about the schools' programs but also about the potential costs and available aid before deciding to apply.

DESIGNING FOR EQUITY
After participating in the testing phase, Bay fully switched over to SCOIR in 2016, not only because the product was well-designed from the user's point of view but also because the company aligned with our values of equity and broadening access to information, particularly about the cost of attendance.
Parents can establish their own login attached to their student's account. If a parent enters basic financial information about their family, a built-in calculator figures the estimated cost of attendance for each school their student has on their list. SCOIR also includes much more detailed information about colleges than other platforms, like average loan debt and graduation rates. Now that's transparency. And it's what families deserve in a time when college represents such a significant financial commitment, and a college degree is the price of entry to many professional fields.
The platform will always be free to Title 1 schools and to students and families, so people from all walks of life have access to tools that can help them make this big decision. Any student can start a SCOIR profile—your high school doesn't need to have an account. In addition, the direct connection with colleges within the platform can keep students informed about scholarships, grants, resources, and student-life programs that they might not learn about otherwise. Particularly among first-generation college students, too many begin at four-year schools without a full understanding of the total costs or available awards and end up either dropping out or having to transfer. Likewise, many students wind up at schools that just aren't a great fit—be it socially, academically, or financially—and this too can derail a student's progress toward their degree.
The Bay School's experience with SCOIR has been overwhelmingly positive, and many high schools have since joined the platform. We believe that equipping all participants in the college-search process with better tools and information will yield more positive outcomes for students and families.
---
---
You may also be interested in...