---
March 21st 2022
Annie Obermeyer was a member of Bay's first graduating class in 2008. She attended Oberlin College and in the years since, has worked in theater and culinary arts, all while delving deeply into Zen practice. We were lucky to have her return to co-teach our Shakespeare Immersive in 2021. But the "spine of her life" has been the Zen study and mindfulness work she began as a 9th grader with Bay's then-chaplain, Teah Strozer. Annie trained as a monk at San Francisco Zen Center and has developed a kind of magic touch with students. Bay's Art Department Chair and drama teacher Katherine Riley says, "She had our students meditating in total stillness and silence for 15 minutes—with no instruction—within a week, by their own request." That is no small feat with high school students in the easiest of times.
During our conversation, Annie beautifully described how mindfulness can help heal some of the cracks that have opened in the world—and in us—in recent years.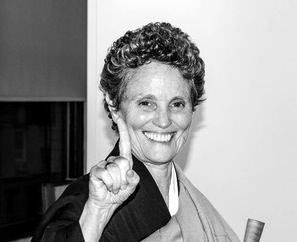 ---
Bay: Tell me about your path after Bay.
Annie Obermeyer: I met two of the most significant mentors of my life at Bay. First was Katherine Riley, who was head of the theater department, and second was Teah Strozer [pictured at right], Bay's chaplain, a Zen Buddhist priest, and senior Dharma teacher. I just won the lottery, encountering these two incredible women. Without them, I would not have had the tools to further develop my two core pursuits: Zen and the arts. My time after Bay was kind of split between the world of theater and storytelling, and Zen Buddhist practice. So I ended up exploring both, and I chose a college I felt would support such endeavors. Turns out, I've spent my life in monasteries, theaters, and kitchens.
Bay: Which college did you end up at, and did it fulfill that hope?
AO: I ended up at Oberlin College, though I didn't start there. I also took a gap year spent primarily in India—that's important to say. Oberlin was the perfect place for me, it gave me everything I needed to pursue what I wanted to after college.
Bay: What is your interest in theater particularly? Are you Shakespeare buff?
AO: I'm absolutely a Shakespeare buff! My interest in theater began with acting. Towards the end of college, I directed and produced my first play and that set another part of me ablaze. Then, right before graduation, Oberlin's theater department asked me to stay on to direct a special project for them for the coming fall. So I did! And just kept taking the opportunities presented. I ended up at the two theaters that I really wanted to be at, teaching at Berkeley Repertory's School of Theater and working at The Public Theater in New York.
Bay: I think a lot of people over the past year who were in theater, they've had an opportunity—probably more than they anticipated or wanted—to think about all the ways that we can tell stories. How to create audience relationships, how to develop the immediacy that theater gives us without the immediacy of the theater space.
AO: So true. What a time to be a storyteller, given how massively our world has changed, given the upheaval. Across all sectors, it's this enormous moment of I don't know, but one thing that I found encouraging about the pandemic is that it reminded us all how much we rely on stories to make meaning out of our lives. This time has reinforced, for me anyway, that to tell a story truthfully and well is to be of service.
It was such a joy coming back to do the Shakespeare Immersive. The students were back on campus for the first time. It was sort of a thrill, signing on to teach Shakespeare to an entire grade, when, most likely, only a very small fraction of those students might actually be interested in Shakespeare. It wasn't a surprise that they jumped in. By the end, everyone in our section was enchanted by the text, ready to perform. They truly learned the techniques necessary to lift classical text and make it their own. I was very proud to see Bay students meet the challenge, in the midst of such unarguably harrowing times.
Bay: Katherine [Riley] told me that the mindfulness work you did with the students was so impressive, that you had them actually wanting to meditate. And it's not a natural thing, even though it's something we focus on at Bay. How did you come to develop this work, especially with young people?
AO: The credit goes to Teah Strozer. That student-teacher relationship has turned out to be the spine of my life. Yes, Teah is my Zen teacher and we have studied that lineage together formally; but she really taught me how to live, and live well. She taught me how to dance with life, really. Once I began to sit [meditate] as a freshman at Bay, I took to meditation quickly, and had something of a hunch that this skill, if well-honed, would enhance every part of my well-being. I think because I met Teah as a teenager, it felt seamless and organic to teach teenagers as an adult. I watched Teah closely. And I paid attention to how she taught me as a young person.
Bay: When you came to Bay as a 9th grader, were you from a family that had some kind of a practice?
AO: No, not at all! At that time, Bay students were guided in morning meditation as a school every single day. Initially, I hated it. I'm telling you, I truly did. So much so, in fact, that I wanted a way out of it! But I knew if I really did want out, I'd have to present Teah with a compelling reason. So I did some research on San Francisco Zen Center, where Teah taught, and found out that they offered silent meditation retreats. These entailed about eight hours of seated meditation a day for seven days. So I went to Teah to bargain: "I'll make you a deal. I'll go to one of these retreats. And if I don't find it useful or interesting, I never have to meditate again." And, to her credit, without batting an eye while maintaining its twinkle, she simply said, "Deal." So I went. That retreat forever changed my life. The rest is history.
Bay: I find myself craving that time. Even when we were all on Zoom last year.
AO: Quiet? Stillness? Yes, of course you do. I think there's a lot of misconception about meditation. If you put the words "spirituality" and certainly "religion" aside, everybody has a natural impulse to be quiet with themselves. That impulse arises because something very primal in us knows that to be still, to be quiet, is a kind of returning home. That I learned the skills to support such a returning when I was so young, served me more than any other learnt skill throughout my life. When I went back to Bay to teach mindfulness, it was astonishing to witness students with zero meditation experience relax into stillness in a way that many seasoned, older practitioners cannot. Given the state of our world now, the capacity to come back to oneself, to find one's own voice, to see through a steady, clear, loving, open lens has never been more crucial. Young people need and deserve a chance to develop these skills, learning ancient wisdom for modern times. When such capacities are honed, we are able to make decisions and lead from a place grounded in wisdom and compassion.
Bay: Yes, now more than ever. I have been struck by how when the bell is rung for everybody to just drop into mindfulness, people do it! We have about 440 students now, so it's a room full of squirrely people. I think it just speaks to how much this is another thing that we need—like stories—is quietude.
AO: Storytelling and the study of consciousness have been the two threads of my life. I weave with those threads because they ask the same questions: what does it mean to be a human being and what are we all doing here? In storytelling, you get to answer those questions under imaginary circumstances, and through the study of consciousness, you face them in reality.
Bay: Do you have any aspirations toward continuing to teach theater? Is teaching a role that you are happy and comfortable in?
AO: I think, at this point, it would be impossible for me not to teach in some way. In Zen Buddhism, we have a saying meant to characterize how the lineage is passed through the generations: "warm hand, to warm hand" we say. I have held Teah's all these years. With one hand still holding hers, I will humbly offer my other to future students. Largely because of Bay, mentorship is something I cherish. I have lived its value.
Bay: So, if you were going to give a Morning Meeting talk right now, what would it be about?
AO: What a great question. I think at Morning Meeting I'd want to open a conversation around facing uncertainty with grace. In Zen, we work with koans, or parables, to help us inquire into our shared human experience. One of my favorite koans goes something like this:
A monk sees her friend walking the path out of the monastery gates, leaving.
"Where are you going?" the monk asks.
"On pilgrimage" says the first.
"What is pilgrimage?" the other replies.
"I don't know" answers the first.
To which the second responds "Not knowing, is nearest."
Another translation is "not knowing is most intimate." The conditions of these past couple years have forced us all into I don't know, profoundly. And so if I was to give a talk at Morning Meeting right now, I would want to address how to be comfortable with not knowing, and how dwelling there can actually lead to freedom. I want the next generation to be able to abide in a place of not knowing in a way that feels empowered.
Bay: The cultural structures that are still in place have not accommodated what so many people are experiencing right now, not just teenagers, but they are at a particularly vulnerable time in that mental and emotional and spiritual progress.
AO: Mindfulness gives you the ability to be with whatever arises as a neutral observer. Once you are able to hold any kind of experience internally, you can meet life, and trust life, in a way that is responsive, not reactive. This is a significant, important distinction, particularly in relation to not knowing. When faced with such moments, do you have the skills to come home, feel whatever needs to be felt, wait, listen, trust yourself, respond, trust life, and let go. If you only have those skills—I know how to come home, trust myself, respond, and trust life—no matter what's happening, you can meet it, you can navigate it. And this includes trusting the difficulties. It especially includes trusting the difficulties. You can learn to trust the crucibles that arise and listen for what they are trying to teach you so that you can evolve. We can work with what is hard and turn it into something beautiful. This is what cultivating mindfulness has given me.
Bay: Now talk to me about cooking!
AO: How much time do we have? I've always loved food. I love eating it. I love making it. While living, studying and practicing at Zen Center, you get a job. A huge part of Zen Center's history is connected to cooking, baking, and farming. A lot of my culinary training comes from my time at Zen Center. Now, I teach cooking classes. When I moved to New York, before I got a job at the Public, I needed to support myself and started a private chef business. That's the other thing I feel Bay really nurtured in me. The culture of the school always encouraged us to follow our curiosity and trust that that was enough. Though you might not know how all the dots are going to connect, they do, somehow, in the end. Part of staying true to oneself means allowing curiosity-based exploration without judgment or fear. And I was glad to discover when I went back to Bay to teach last year, the students have maintained that spirit to this day. That's another reason why mindfulness is so critical: it teaches you how to stay in touch with yourself over and over and over again, so that when you make decisions about what you want to move towards, it's coming from a place that's a reflection of your authentic self.
Bay: You know, obviously, we try to create that kind of judgment-free space, but we are far from the only influence that they are contending with.
AO: Given how fast the world moves right now and how much we're exposed to on a daily basis, it feels like if you want to live in a way that's sane, you have to put in effort because the conditions we're in right now are not supportive of sanity. In fact, they might be directly oppositional. So we have to learn these skills.
I think one of the big misconceptions about meditation is that by doing it, you are trying to get something that is outside of yourself. But you're actually uncovering what you already have, what you already are; it's just been covered over or obscured. Meditation helps us return to our most essential: unobscured, pure consciousness. And that is our birthright. If mindfulness skills are cultivated well, the stillness is no longer a place we visit occasionally on a cushion. It is where we live from. And although sitting can feel like something we're doing for ourselves, ultimately, it's something we are doing for all of humanity. Because the more awake, skillful, and loving beings we have on this planet, the better chance we've got at real change, real transformation. If you are a person who has developed that kind of still presence, you've already given the world an enormous gift. Because everybody you encounter will feel it just by being around you. And there is a chance that, by just being near you, the stillness will be awakened within themselves.
---
---
You may also be interested in...